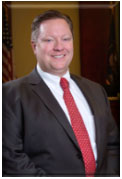 Appointed by:
Municipalities within Salt Lake County and the municipalities of Grantsville and Tooele in Tooele County. 
Term Ending:
March, 2020
Professional:
Member Utah State Bar 1996- present.  Private practice since 1996.  Areas of practice, products liability, personal injury, criminal defense.  Lengthy career in civil litigation.
Civic:
Elected Mayor of Draper City in 2014. Served previously as member of the Draper City Council.  Liaison to Draper Youth Council, Peer Court, Appeals Board and the Economic Development team.  Republican State and County Delegate and current precinct chair.
Education:
Associate of Science, Business, Salt Lake Community College, Bachelor of Science, Accounting, University of Utah; Juris Doctor, Willamette University, Salem, Oregon, Two time Trial Practice Champion, Certificate in Dispute Resolution, Inducted Order of Barristers.