Be a steward of your community! Help take care of your local UTA bus stop.
Create a Sense of Stewardship
Partner with Utah Transit Authority (UTA) in a proactive, positive effort to keep your local bus stop and community safe, clean and thriving. The UTA Adopt-a-Stop program is available as a partnership with community organizations, including businesses, 501c3 organizations, government agencies, and other organized groups.

As an adopting organization, you will be asked to participate in the stewardship and maintenance of your local bus stop. Upon signing the Adopt-a-Stop agreement, the adopters agree to be stewards of their adopted stop and report any problems at their stop.

Adopters are encouraged to check on their stop regularly. During these check ups, routine basic maintenance will be performed by the adopters, including trash and snow removal. Issues can be reported to a provided internal UTA contact.

UTA will provide a sign at your adopted stop with your organization's name. Stop signage will identify your organization as the steward/adopter of the adopted stop to the surrounding community.

UTA Adopt-a-Stop is an effort focused on community building and growth.
Create Artwork
Artwork is an optional, but encouraged, element of the UTA Adopt-a-Stop program. Your organization will create or facilitate the creation of community-centered artwork, which UTA will install at your stop.

After six months of successful adoption, the option to create and install artwork is available to the adopter. All artwork must meet UTA's Artwork Guidelines.

Art may be incorporated at the adopted stops in a variety of ways. The type of art installation will be determined on a case-by-case basis, according to the parameters of the adopted stop and the artists' vision. Upon installation of artwork, UTA will assume ownership of the artwork and it will be furthermore maintained by UTA.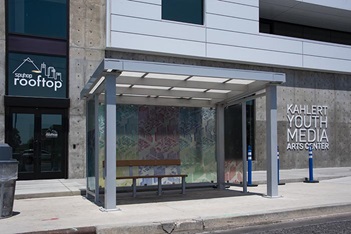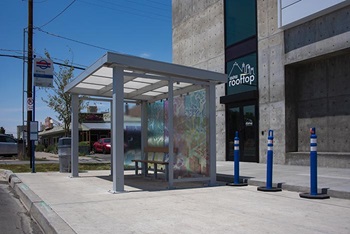 Current Adopt-a-Stop Locations
Updated map coming soon
Want In?
The UTA Adopt-a-Stop program is currently in its pilot phase, which will end in August 2022.

If you're interested in participating, email us at community@rideuta.com to speak with an Adopt-a-Stop representative about your organization's participation.
Contract Stipulations and Renewals
Each adopting organization will have an agreement with UTA, which includes expectations regarding stop maintenance, stewardship, and artwork. This agreement will be renewable every two (2) years.

Each agreement renewal is good for an additional two (2) years of stop maintenance and stewardship.

Your organization might be a great fit for this program if it can meet the following:
Commit to at least two (2) years of bi-monthly inspections to the stop, with a renewal option at the end of the two-year period
Be located within 1/2 mile of a selected stop
Undergo a half hour, in-person safety training for their stop
Identify a single point of contact who can participate in regular communication (phone, email, etc.) with UTA's Community Engagement team.
Get in Touch
For inquiries regarding the UTA Adopt-a-Stop Program, email us at community@rideuta.com.
Please allow two-three business days for a response.