UTA has a comprehensive emergency management program to keep you and our passenger safe. Preparation is critical for effective emergency management. Which is why we collaborate with stakeholders and other emergency response partners several times a year in planning full-scale emergency response exercises. The situations of these exercises range in scale and scope which helps us plan effective emergency responses.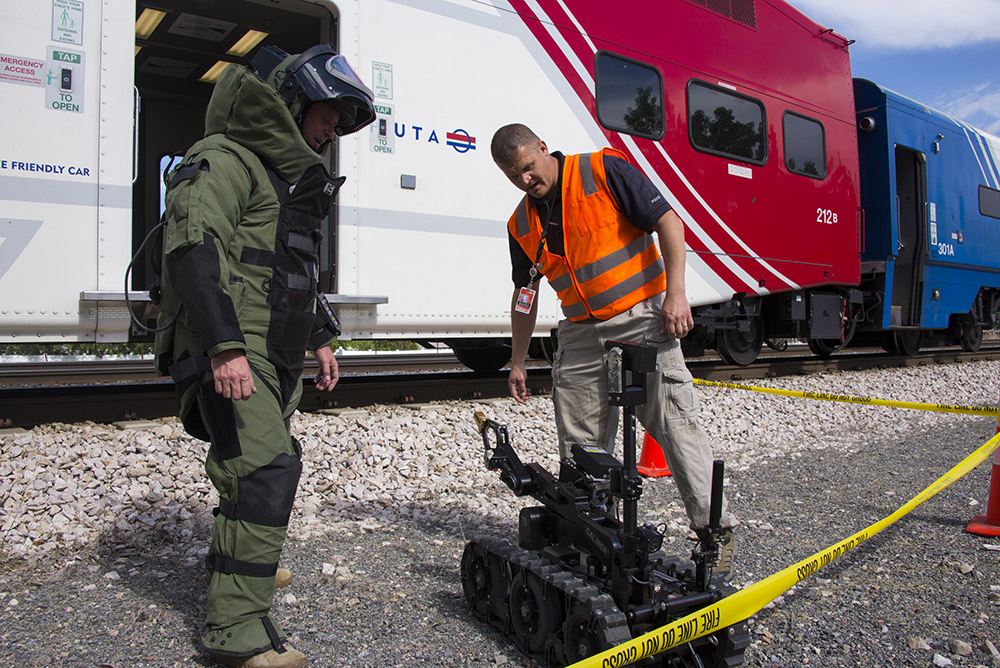 Mission Statement
To accomplish our vision through all hazards comprehensive planning, coordination, communication, collaboration, training, exercising, and education to our employees and operational jurisdictions.
Vision Statement
To be recognized as an industry leader in emergency management with a prepared, resilient, trained, and ready to respond workforce therefore allowing for a quick restoration of critical infrastructure.
At UTA we are federally required by 49 CFR 239.103 for our commuter rail and by 49 CFR 659.19 for our light rail to conduct yearly exercises. As part of this process UTA conducts two full scale exercises a year usually in late spring and early fall. If you are interested in volunteering to participate in one of these exercises, please fill out the form below:
Report a Safety Concern or Crime
See Something? Say Something! If you see a safety concern, crime or another matter you feel needs an immediate UTA Police response, please report it:
Call 9-1-1—if there is an emergency, it is best to call 9-1-1
Call UTA Police Dispatch—to reach UTA Police by phone, call 801-287-3937 (801-287-EYES)
Text us—send text messages to UTA police at 274-637 (CRIMES). Start your message with UTATIP and then include your message.
If your concern is not urgent, you can report them through this website by clicking on a link below: