Updated: June 29, 2020
New updates highlighted below.

UTA to require face masks or coverings, click here for more information

The safety of our riders, employees and community is a top priority for UTA and our goal is to keep everyone safe while reducing the spread of the COVID-19 coronavirus. Public transit is an essential service. UTA continues to operate our bus, rail and paratransit services in order to provide the essential trips to work, grocery stores, pharmacies and other critical community services outlined by our cities, county officials and the Governor.
Honoring Our Dedicated Employees
We would like to recognize our operators who continue to provide service for those who rely on us for their essential trips. Throughout the COVID-19 pandemic, we are here to safely serve our community and those essential workers who continue to rely on us. We invite you to review this short message about how UTA and its dedicated employees remain committed to providing safe and reliable service to the people who are relying on us.

There have been many efforts to honor the essential front line employees who continue to serve their communities throughout the COVID-19 pandemic. We wanted to share a few videos that recognize and celebrate these essential workers.

Thank You to America's Public Transit Workers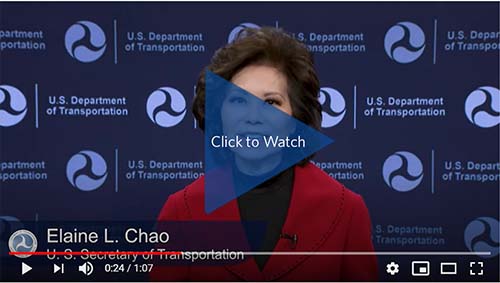 A Musical Thank You to Our Essential Workers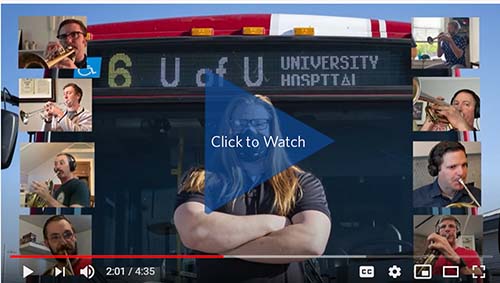 UTA's Response to COVID-19
Despite some of the state transitioning to the low and normal risk phases, UTA will continue to follow the moderate-risk guidelines due to part of our service area remaining in the moderate-risk phase.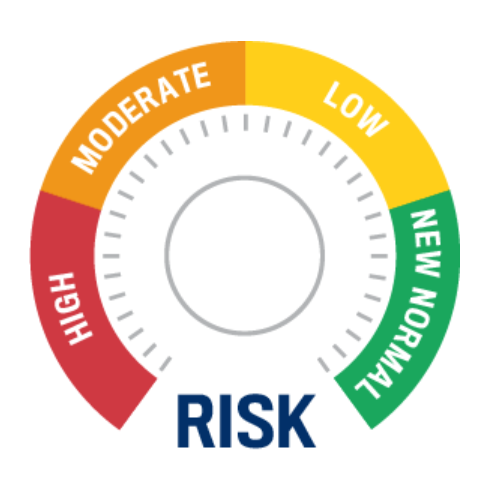 We continue to operate on a reduced service schedule and closely monitor ridership on a daily basis to make targeted service adjustments as necessary to ensure social distancing is possible while riding. Our commitment to keeping our employees, riders and community safe remains our top priority and we are continuing with our daily disinfecting procedures and social distancing measures throughout the system and in our offices. We encourage everyone to wear a mask when riding and are providing complimentary face masks to riders who need them. Face masks are available for pick up at our Customer Service locations.
What We are Doing to Keep You Safe
In response to the increased surge of COVID-19 cases in Utah and in compliance with the Salt Lake County Health Order issued on June 26, 2020 requiring face coverings to be worn in public spaces, UTA is requiring that its riders, operators and employees who work in public spaces in Salt Lake County wear a face mask or covering beginning June 27, 2020.

On July 1, 2020 UTA will require all riders and employees system-wide to wear face masks or coverings in public, common and shared spaces until further notice.

Vehicle, Station and Facility Cleaning
In addition to our regular daily vehicle and station cleaning, we have implemented additional disinfecting measures to keep you safe, including:
Daily disinfecting of all vehicles, stations and facilities, including all surfaces that are frequently touched.
Daily bus vehicle wipe down using a disinfectant.
Daily floor cleaning and wiping of all touch services on vehicles with an approved disinfecting bleach solution.
On-system cleaning of light rail vehicles with electrostatic backpack disinfectant sprayers and handheld sprayers.
Using contract cleaners on rail to disinfect all high touch areas, hand rails, straps, handles and buttons using an EPA-approved disinfectant.
On UTA On Demand by Via, we are reducing the total number of passengers in each shared ride to a maximum of 3 people per vehicle. This ensures you're always at a comfortable distance from fellow Via riders. We have also increased our cleaning and disinfecting procedures to ensure you stay safe while riding.
Additional Safety Measures
A COVID-19 work group has been assembled within UTA and we are prepared to implement additional measures should the state experience a major outbreak.
To keep everyone safe while riding TRAX, operators are now opening the doors after arriving at stations so riders do not need to press the button to open the door. Customers with disabilities who need to use the ramp will need to push the button to deploy the ramp.
Providing hand sanitizer and appropriate PPE to operators and employees.
UTA is providing complimentary face masks to riders who need them. Face masks are available for pick up at our Customer Service locations.
Social Distancing on Transit
UTA has taken several measures to promote social distancing on our system during the COVID-19 pandemic to protect our riders and employees. We advise people to limit their transit use to the essential trips outlined by our local and state leadership. Avoid riding if you are experiencing COVID-19 symptoms, and follow the latest CDC guidelines for protective measures, such as wearing a face mask or covering while out in public, and maintaining a 6-foot distance.
Bus operators and Transit Police Officers are not handling passes and will be conducting visual fare inspections only.
Transit Police is working with local medical professionals to assess any individual who may exhibit COVID-19 symptoms and request medical attention as needed.
Signs have been posted on our buses advising riders to board through the rear doors. Passengers that need the ramp or require assistance may still board through the front door.
On buses, passengers are asked to stay behind the yellow passenger line, which has been moved back to provide 6 feet of distance between operators and riders.
On TRAX and FrontRunner, yellow ropes or signs designate an area of separation between operators and riders to promote social distancing. Customers with disabilities who need to use the ramp to board/alight are still being accommodated.
Regular buses are being used on the SLC-PC Connect service to allow for rear-door boarding.
With more people staying home and ridership down, social distancing has become easier to practice while riding transit.
A temporary Plexiglas barrier between operators and riders has been installed on some of our buses. Passengers who need the ramp or require assistance may still board/alight through the front door and make their way past the barrier to their seat, or the area where their mobility device will be secured.
What You Can Do to Stay Safe
We all have a part in preventing the spread of COVID-19 and can keep everyone safe by following recommendations from our health experts:
Stay home if you are sick, feel COVID-19 symptoms, or have been in close contact with someone who has the COVID-19 virus
Wash your hands often with soap and water for at least 20 seconds
Disinfect shared surfaces and frequently touched objects
Avoid touching your eyes, nose and mouth
Wear a face mask or covering while out in public
If you have to cough or sneeze, be sure to do so in your arm or a tissue
Follow UTA on Twitter and Facebook for updates about transit and COVID-19.
Service Reductions
Similar to other transit agencies across the country, UTA has seen a significant decrease in ridership due to the COVID-19 pandemic. With the lower than normal ridership, we are seeing a decrease in fares and expect a decrease in our sales tax revenue.

As part of the ongoing effort to limit the spread of the COVID-19 virus and ensure fiscal responsibility, we implemented temporary service reductions beginning April 5, 2020 until further notice. Our decision to temporarily reduce service did not come easy. However, after closely monitoring our ridership we have decided to focus our resources on providing critical service for those who continue to depend on us for their essential travel needs at this time.

Below is an overview of the temporary service reductions.

Weekday Service:
Fixed Route Bus:

Maintaining hours of service on most routes
Adjusting frequency on most 15 and 30 minute bus routes
UVX frequency adjusting from 6 minutes to 15 minutes
Suspending some commuter bus routes
Flex routes: Maintaining hours of service while adjusting frequency to 60 minutes on most routes

TRAX: Adjusting frequency from 15 minutes to 30 minutes
FrontRunner: Adjusting frequency from 30 minutes to 60 minutes
Saturday Service:
Fixed Route Bus:

Adjusting frequency of service on 15 minute bus routes to 30 minutes
UVX maintaining 15 minute frequency
All other bus routes retaining Saturday schedule

TRAX: Adjusting frequency from 20 minutes to 30 minutes
FrontRunner: Maintaining current Saturday frequency with evening service ending earlier
Sunday Service:
Fixed Route Bus: All routes retaining Sunday schedule
TRAX: Adjusting frequency from 20 minutes to 30 minutes
FrontRunner: No service on Sunday currently
To view detailed service reductions by route, please visit rideuta.com/april

Use one of the following tools to plan your trip and be sure to check our holiday schedule information:
Responding to Service Needs
Since implementing the reduced service schedule, we have been closely monitoring ridership and feedback from our customers. After receiving data and feedback, we have found that several routes have been experiencing heavy loads during peak hours. In response, we have increased frequency on the following routes to mitigate crowded buses and ensure riders are able to practice social distancing.
Route 33:

Implemented 15-minute service between West Valley Central Station and Millcreek Station from 5:30 a.m. to 6:00 p.m.

Route 35:

Two eastbound trips added at 4:53 a.m. and 5:23 a.m.
These trips will continue as Route 33 to Millcreek Station

Route 200:

Implemented 15-minute service from 8:00 a.m. to 6:00 p.m.
The additional trips will not serve the State Capitol. Trips that currently serve the Capitol will continue to do so.

Route 217:

Implemented 15-minute service between 6:00 a.m. to 6:00 p.m.
An additional later trip has been added. Please see the schedule for details

Route 667:

An additional later trip has been added. Please see the schedule for details.

Route F94:

Implementing 30-minute service beginning June 22. Please see the schedule for details.

FrontRunner:

In response to increased ridership, FrontRunner will resume running four-car trains starting Monday, June 22.

Route 470:

Two early morning weekday trips have been added. Please see the schedule for details.
Paratransit Service
Paratransit service continues to operate as normal to provide service to riders for their essential needs. However, we have suspended our normal call-in protocol until further notice. Anyone calling to schedule or cancel a trip up to seven days in advance will be instructed to leave a voicemail with their request. We will call you back to confirm your request. If you leave a voicemail to schedule a trip, we will call you back no later than 5:00 p.m. the day before your scheduled trip. To keep you and our operators safe, we ask that riders cancel any non-essential trips at this time. If you need to cancel a previously scheduled trip, please call 801-287-7433 as soon as possible.

UTA's Mobility Center, which facilitates UTA's Paratransit eligibility process, has implemented the following safety measures until further notice:
The Mobility Center office will be closed to the public.
The Mobility Center will be answering phone calls Monday – Friday 8:00 a.m. - 4:30 p.m. to assist customers.
If you need a replacement Paratransit ID Card, please call 801-287-2263 and we will send you a new card by mail.
We are still accepting applications for UTA Paratransit Services and have implemented a temporary eligibility process until we will be able to open our doors again to the public. For details please call the UTA Mobility Center at 801-287-2263.
UTA Recovery Task Force
As we transition into the moderate-risk phase, it is important that UTA prepares to restore service in a way that aligns with the community's efforts to reopen, the health of the economy, as well as the evolving ridership demands.

A task force has been assembled within UTA to develop a customer-centric service restoration plan. This group will be looking at both short-term demands and long-term outcomes with detailed focus on ridership, financial stability, and rebuilding community confidence in public transit.

Before UTA can develop a phased service restoration plan, it is important that we first gather feedback from our riders and community to ensure we reintroduce service in a meaningful way. To do this, we initiated customer surveys to collect comprehensive data on rider behavior and the customer experience in response to the COVID-19 pandemic. The objective of the surveys was to learn more about service needs and rider expectations, which will allow us to efficiently prioritize our resources in the future. We will share more information on the survey results as it is available.

The COVID-19 pandemic has provided UTA the opportunity to asses and reevaluate where and how we provide public transit solutions to the community. Long-term service design is a top priority throughout this effort and will be taken into consideration as the service restoration plan is developed. By taking a calculated approach, we will be able to implement strategic and sustainable service to the community we serve.
Resources
Utah Leads Together - Utah's Plan for a Health and Economic Recovery: https://coronavirus-download.utah.gov/Governor/Utah_Leads_Together_Version_4.0_061720.pdf

Utah Department of Health: https://health.utah.gov/coronavirus

Centers for Disease Control and Prevention: https://www.cdc.gov/coronavirus/2019-ncov/index.html

Intermountain Healthcare COVID-19 Updates: https://intermountainhealthcare.org/covid19-coronavirus/?utm_source=coronavirus&utm_medium=vanitydomain&utm_campaign=coronavirus20200302

University of Utah Health COVID-19 Updates: https://healthcare.utah.edu/coronavirus/

FEMA: Coronavirus Rumor Control: https://www.fema.gov/coronavirus-rumor-control

Community Lifelines: https://www.fema.gov/lifelines