Have any questions or concerns?

Project Overview
Bus Rapid Transit or BRT combines the capacity and speed of light rail with the lower cost construction of an integrated bus system. Once complete, Ogden Express (formerly route 603) will provide riders a clean-air ride in an electric bus from the Ogden FrontRunner Station, through downtown, along dedicated bus lanes in the center of the road on Harrison Boulevard and through the Weber State University campus, and to McKay-Dee Hospital. When operational, riders will be able to catch the bus every 10-15 minutes on weekdays and 15-30 minutes on weekends. The project will benefit the community by reducing vehicle trips, supporting the economy and providing transportation choices.

Download Quick Facts

Download Frequently Asked Questions
Transit Improvements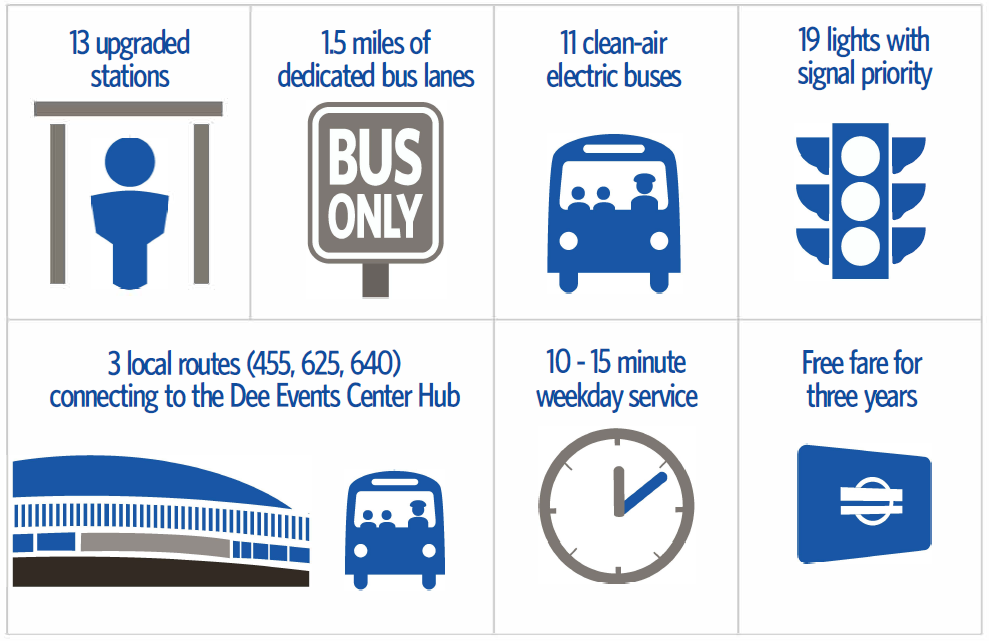 Roadway/Pedestrian/Bike Improvements
23rd Street
Road reconstruction


Washington Blvd
Road reconstruction & pedestrian crossings    


25th Street
Road reconstruction
Harrison Blvd
New widened roads, pedestrian crossings
& adding turn lanes on 32nd & 36th Streets

WSU Campus
New shared use path with road reconstruction
pedestrian crossings and bike lanes

4400 South
Road reconstruction

Construction
Utah Transit Authority, Jacobs Engineering, AECOM, WCEC, and Stacy and Witbeck have partnered to design and construct the Ogden Express (OGX) line over the next three years. Project segments will be constructed simultaneously in multiple locations to ensure project completion in a timely manner.

Updates this week:

Washington Blvd.
OGX station canopies on Washington Blvd. have been installed between 24th and 25th streets.
23rd Street & Ogden Intermodal Transit Center
Sewer line installation continues between Lincoln and Grant avenues.
23rd Street is closed to all traffic and on-street parking between Lincoln Ave. and Grant Ave. for reconstruction. North/south thru-traffic remains open on Grant Ave. Existing sidewalk remains open during construction.
North/south traffic on Lincoln Ave. is currently closed.
Paving for 23rd Street between Wall St and Lincoln Ave has been completed
Station platform work has begun at the Ogden Intermodal Transit Center.
25th Street
Paving on 25th Street is complete. Station platform work will continue.
OGX station and electrical work continues near the Jefferson Ave., Monroe Blvd. and Harrison Blvd. intersections.
Harrison Blvd.
Between 32nd and 36th streets on the eastside of Harrison Blvd., crews will continue driveway replacement work as well as sidewalk, curb and gutter installations. Paving at businesses and where utility work has occurred will continue through mid November, pending weather and temperature.
Phase 3 of construction along Harrison Blvd between 31st and 37th streets is scheduled to begin early November. To accommodate work on the center dedicated bus lanes and stations, traffic along Harrison Blvd. will be shifted to the outside lanes and left-turns will only be permitted at 36th and 32nd streets.
Utility relocations continue on northbound Harrison Blvd. near 36th Street. Sidewalk is closed on the east side of Harrison between 35th and 36thstreets and detoured to the west side.
OGX station platform and utility work continue at the 28th Street intersection (Ogden High School). Watch for lane shifts and possible east side closures of the 28th Street intersection.
Road widening is underway between 31st and 37th streets to facilitate the addition of dedicated bus lanes in the center and new OGX stations at 32ndand 36th streets. Two lanes are maintained in each direction during daytime hours. Drivers are advised to reduce speeds and watch for lane shifts.Left-turns are restricted in the work zone.
At Harrison Blvd. and 25th Street, crews will continue work to install traffic signal pole foundations and conduit.
Weber State University
WSU Wildcat Shuttle service is now open. Clean air electric buses are servicing three stations on campus every 5-10 minutes on weekdays from 6:30 a.m. to 8:30 p.m. along the new dedicated alignment between Central Campus, Wildcat Village student housing and the Dee Events Center. Fare is free and free parking is available at the Dee Events Center parking lot. Please note that the new busway is for buses only and is not open for public access.
Earthwork and utility work for the new OGX alignment between Harrison Blvd. and Lindquist Plaza will continue next week.
The A1 parking lot will be closed starting on November 12th. It is anticipated that the parking lot will be closed until mid-November.
McKay-Dee Hospital
OGX station construction is underway near the hospital's main entrance and will continue through fall 2022, with pedestrian access maintained.
Canopy installation is scheduled to begin on November 1st and continue through mid-November.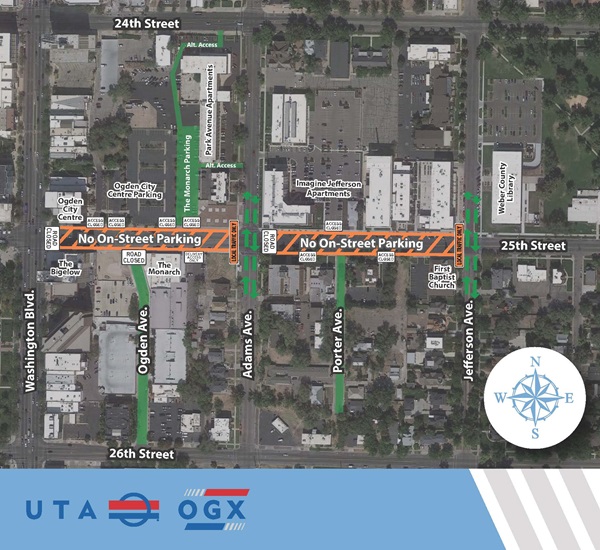 Construction Timeline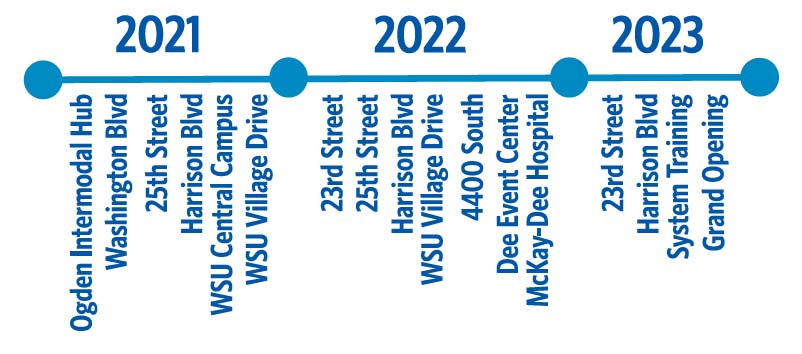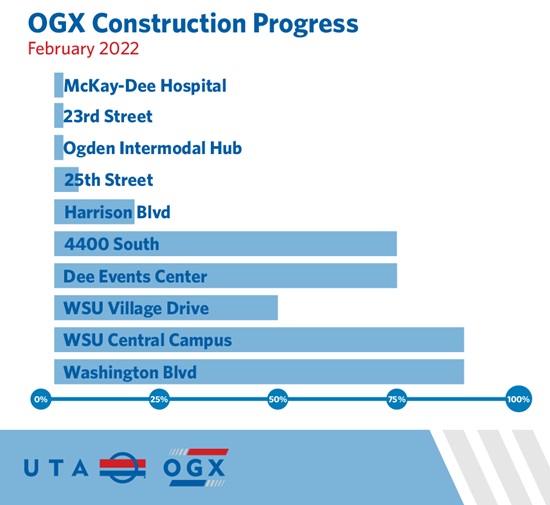 Project Partners

Funding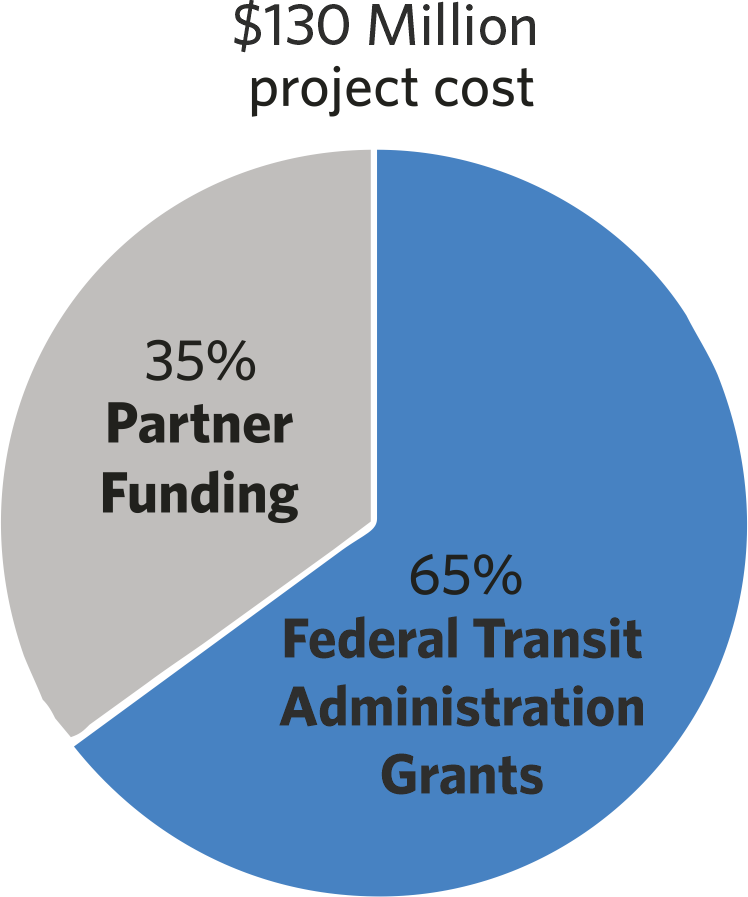 Get Notified
To stay up to date on the latest and greatest news about construction and the Ogden BRT, we suggest you take advantage of these great resources during this project:
Environmental Assessment
An Environmental Assessment (EA) was completed for the project in 2019. The purpose of the EA was to identify the environmental effects associated with project construction and operation and to provide agencies and the public an opportunity to review and comment on the effects of the proposed project. The EA evaluated impacts to socioeconomic, environmental, and transportation conditions in the project area and what further actions or mitigation could be implemented to address the identified impacts.
Finding of No Significant Impact
Environmental Re-Evaluation