Project Overview
UTA has been asked by the Point of the Mountain Commission to evaluate transit service options to the Point of the Mountain region. In collaboration with UDOT, WFRC, MAG, Salt Lake County, Utah County and other affected jurisdictions, UTA is working to fulfill this request by conducting a study of potential public transit alternatives around the Point of the Mountain. In consultation with the public, the study will explore and evaluate alternative transit alignments and modes, ultimately leading to the selection of a Locally Preferred Alternative (LPA) corridor. The study will estimate ridership, travel times, travel markets, land use, economics, conceptual engineering, and capital costs for the identified alternatives. Public and stakeholder outreach and input will be a key component of the entire project.

The Point of the Mountain transit study begins from the foundation of previous visioning initiatives, and is one of multiple efforts to resolve the transportation challenges at this critical throughway. Once a Locally Preferred Alternative is identified, an environmental document (ESR or EIS/EA) will be completed. The type of document depends upon funding source (local or federal) and alignment(s) selected.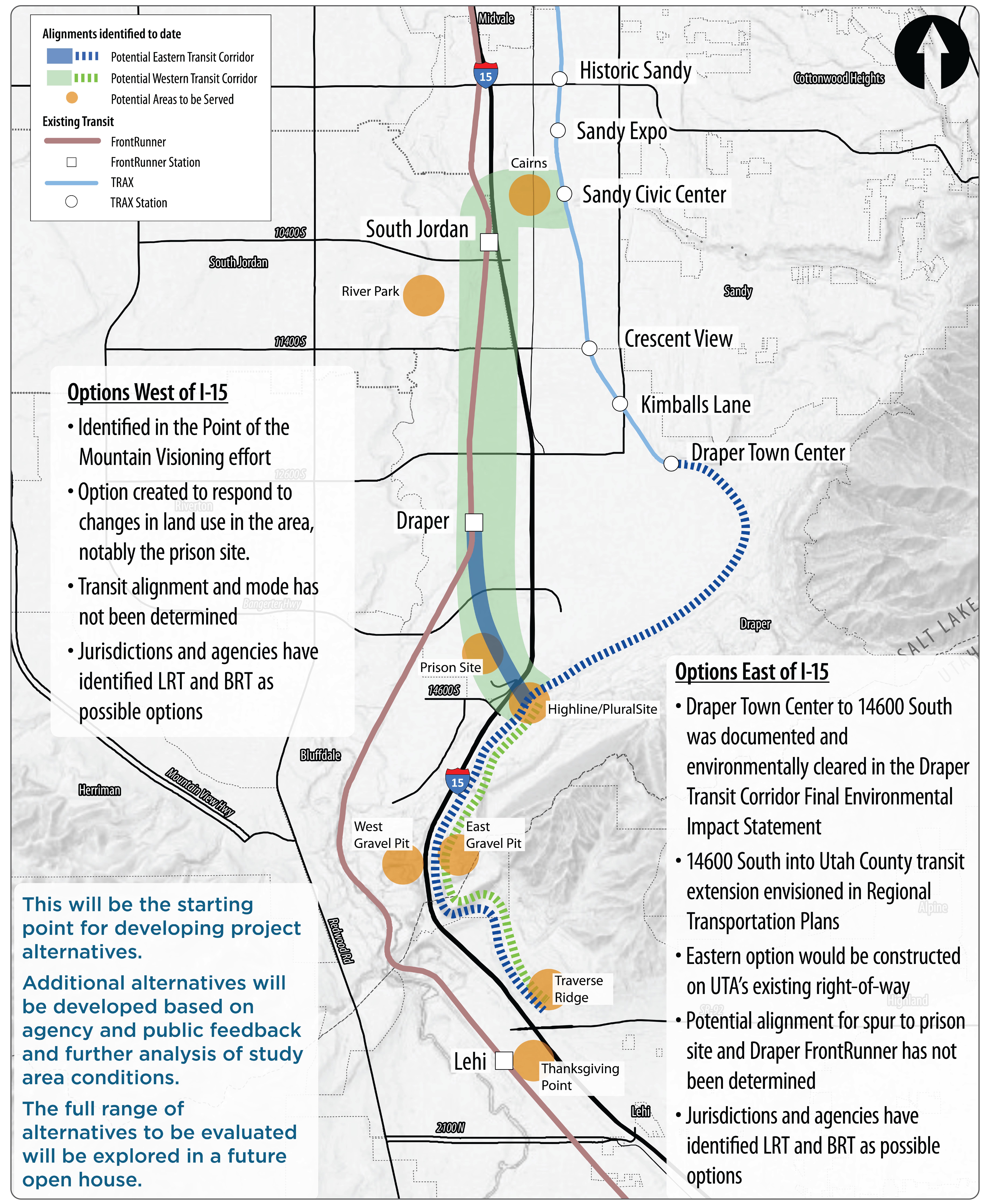 Transit corridor alternatives identified through prior visioning initiatives
Project Objectives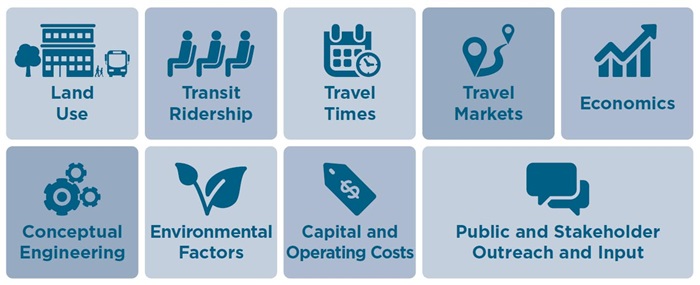 Traveling around the Point of the Mountain is a critical problem for Utah. This project, slated to be in the 2050 Regional Transportation Plan, Phase III, proposes a transit connection between the existing prison site to the TRAX Blue Line, the Draper FrontRunner Station and points north and south. The study will evaluate potential alignments for the transit investment that will provide the most viable regional connectivity and mobility, as well as economic development opportunities. A direct transit option is needed between the Silicon Slopes in Utah County, the state-owned existing prison site in Salt Lake County, and the existing transit network.
UTA's Role
The role of UTA in the Point of the Mountain transit study is to:
Facilitate the study process
Comply with the process' federal requirements
Deliver the right service for the approved final alignment
UTA will not:
Drive economic development
Promote a specific solution
Alternative Corridors

Transit Study Results
The Point of the Mountain Transit Study, which UTA conducted in collaboration with project partners since the fall of 2019, has concluded a detailed alternatives analysis and published the findings for public feedback through a survey (November 23 through December 10, 2020). The final report, which is available at the link below, incorporates public feedback and defines the Locally Preferred Alternative (LPA) which specifies a transit alignment and mode (type of technology) to provide high-capacity transit service from southern Salt Lake County to northern Utah County. The transit alignment, referred to as the "Common Ground Segment," builds off of previous analysis and public feedback and is a shared transit corridor that was proposed in all previous alternatives.

In the report (see link below), the Common Ground Segment alignment was analyzed for two different mode options: Bus Rapid Transit (BRT) and rail. Both modes provide high-quality transit service, with vehicles operating in dedicated lanes outside of traffic, and both modes include enhanced station area amenities. In the final analysis, BRT was selected as the best-performing transit technology and is the preferred mode for the corridor. For many, BRT is a new concept. This video provides a thorough overview of BRT, including examples of the UVX Bus Rapid Transit system in Utah Valley. In addition to previous outreach efforts, this study has also included a representative survey of households in the Point of the Mountain area.

Final Report and Executive Summary

Please find the final report HERE. The executive summary of the report is HERE.

Locally Preferred Alternative Map

Click to enlarge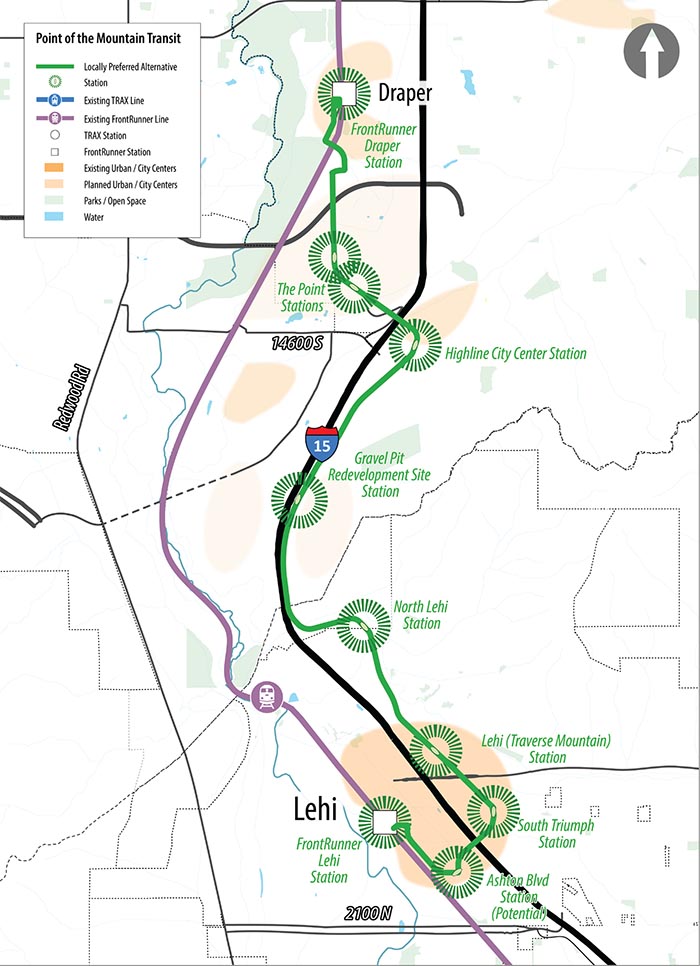 Overview of Common Ground Segment Modes

Click to view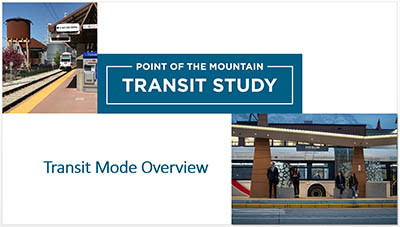 Next Steps

The next step in considering transit development around the Point of the Mountain is an environmental review of the LPA. This is slated to occur in 2021, pending availability of funding and other resources.

Contact Us

Questions about the project should be directed to Patti Garver, project manager, at PGarver@rideuta.com
Project Partners